Globalworth expands its sustainable footprint with a new Solar Plant
by CIJ News iDesk III
2023-08-29 11:15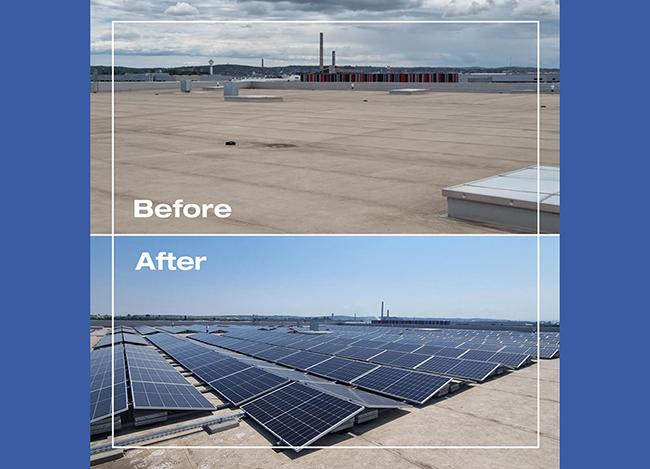 Globalworth announced the completion of another solar plant installation, this time on the rooftop of its Industrial Park West in Oradea, a key asset in the company's logistics and industrial parks portfolio.

After the successful implementation of solar plants at Globalworth Square, Globalworth Plaza, and Timisoara Industrial Park, the new installation at Industrial Park West in Oradea further demonstrates the company`s dedication to implementing greener and more energy-efficient practices within its portfolio.

The new installation, as agreed with the tenant and beneficiary of Globalworth`s park, iwis mobility systems, comprises more than 700 photovoltaic panels supplied by Canadian Solar, summing to a total power capacity of 297kWp.

This cutting-edge solar power installation will significantly reduce energy consumption and associated costs.

"Building upon our strong ESG policy, this new solar plant is yet another concrete demonstration of our and our tenants` commitment towards sustainability and a cleaner future," said Marian Popa, Managing Director at Globalworth Romania. By integrating these renewable energy sources into our properties, we're not only reducing operating costs for tenants in our business community but also significantly decreasing our portfolio's carbon footprint. We have set a goal to achieve a 40% reduction by 2030, using 2019 as a baseline, and to achieve that we are planning to gear up many more of our assets with solar panels in the coming period.

The newly installed solar plant at Globalworth's Industrial Park West in Oradea, with a robust power capacity, can generate an impressive 350,000– 450,000 kW of electricity annually. In practical terms, that's enough clean energy to power between 30 to 37 average homes for a full year, demonstrating the solar plant's ability to deliver substantial and tangible benefits.

Moreover, its contribution extends beyond the logistics park's boundary. By leveraging this renewable energy source, Industrial Park West effectively offsets carbon emissions equivalent to removing about 90 vehicles from the road annually or planting between 16,000 to 20,000 trees. The combined power of all existing solar plants in the Globalworth portfolio in Romania is around 834 kWp, and with two new projects underway the company anticipates doubling that capacity in the next period.

"Our strategy prioritizes both the well-being of our tenants and the health of our planet. By harnessing solar power, we're making our buildings more self-reliant, resilient, and sustainable. We're proud to make this step forward at Industrial Park West in Oradea, and we will continue to pursue similar projects in the future," added Marian Popa, Managing Director at Globalworth Romania.

"We are proud to be part of our partners' sustainability journey, providing a collaborative approach with Globalworth and IWIS Mobility Systems that included project planning, risk assessment, design and execution with outstanding health and safety standards. Photovoltaic systems are a great way to reduce projects' carbon footprint as they produce clean, renewable energy for a quarter century. And as the world moves towards a low-carbon future, businesses that are using renewable energy will be able to keep the competitive edge," added Andrei Ivan, Managing Director at 4ENVIGO.

At iwis mobility systems, we're privileged to operate within a facility that places sustainability at the forefront.

The new solar plant at Industrial Park West is proof of our shared dedication toward a greener future and care for the next generations. This initiative supports our operational efficiencies but aligns seamlessly with our commitment to sustainable practices, added Georgiana Ivascu, Plant Manager at iwis mobility systems.