News Proceeds from the SVOBODA & WILLIAMS CUP 2022 in the Amount of CZK 528,900
by CIJ News iDesk III
2022-11-29 08:57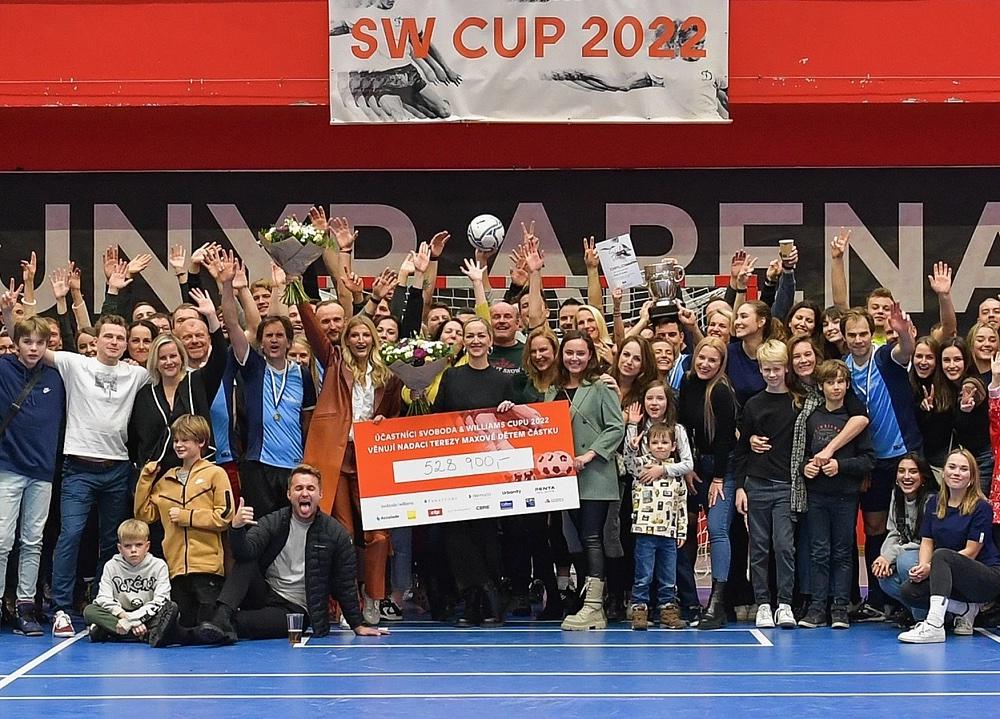 After a two-year break due to covid, the UNYP arena – Sparta Podvinný mlýn once again hosted the SVOBODA & WILLIAMS CUP. This year, the charity futsal tournament and its cup was won for the first time by the organizing Svoboda & Williams team.

As usual, 12 teams representing major real estate companies competed to win the SVOBODA & WILLIAMS CUP. This year, Accolade, bpd development, CBRE, Colliers International, CPI Property Group, CTP, Cushman & Wakefield, DEMACO, Panattoni, Penta Real Estate, Savills CZ, and Svoboda & Williams participated in the competition. The cup will now be displayed in the offices of Svoboda & Williams, who won the final game in a penalty shootout. Accolade took home the silver medal and the bronze went to CTP, whose player, Marek Kodr, was the tournament's MVP. Penta Real Estate's Miloš Kocián was voted best goalkeeper.

"We are happy that over the past decade we've managed to create a sports and social event with a significant charitable impact that real estate companies enjoy participating in, and the proof is this year's record contribution made up of donations from a growing number of teams as well as money raised from the raffle. This year, the jersey of Lukáš Masopust was donated by SK Slavia Praha and four teams, which had kept their contributions from the pervious year that was canceled at the last minute due to covid, were also added to the proceeds. I hereby extend a great deal of gratitude to Trigema, JLL, CBRE, and Panattoni," says Jaroslav Waldhauser, Head of Commercial Leasing at Svoboda & Williams. 

The entire proceeds from the tournament will go to the Tereza Maxová Foundation, which has been helping children in need and enabling them to grow up in a loving family since 1997. "I would like to extend my heartfelt thanks to the organizers of the S&W Cup for their long-term support and help, which we greatly appreciate. Each year, we carefully distribute the amount raised, which this time, thanks to the donations of the participants, is once again significant. We can use these funds to help abused and traumatized children in cooperation with the Children's Crisis Center and the Vigvam counseling center. Thank you very much for this opportunity," says Terezie Sverdlinová, Director of the Tereza Maxová Foundation. 

This year, the organizers have once more prepared a relaxing event for the whole family. The youngest fans were entertained and taken care of by Pididomek—a kindergarten and nursery with extra English lessons. Excellent refreshments were offered by Prague Catering. Raffle prizes were kindly donated by the following partners: Aparthotel Svatý Vavřinec, Bistro Antonio Sandev, the Prosek bobsleigh track, Hotel Pivoňka, La Cave d'Adrien, Masarykova N°30 Apartments, MOOQ, Partylite, the Cvikov brewery, Revolution Ride, SK Slavia Praha, The Spot cafe lounge, TERIBEAR, and Chateau Dobříš. Czech Sport Media handled the sports side of the event.