Skanska has sold the first phase of its H2Offices complex in Budapest
by CIJ News iDesk III
2023-09-19 09:18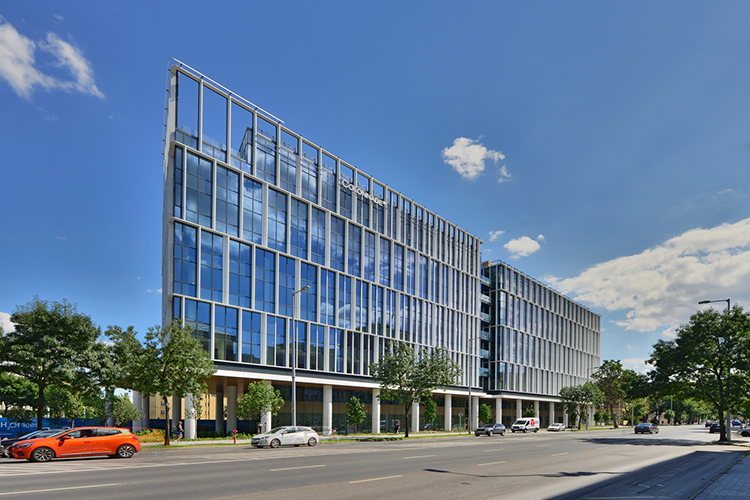 Skanska has sold the first phase of its H2Offices complex in Budapest to ERSTE Open-Ended Real Estate Investment Fund, represented by ERSTE Alapkezelő Zrt. This is the third acquisition that the purchaser has made from Skanska Hungary, after acquiring Nordic Light in 2016 and Mill Park in 2018.

H2Offices is perfectly positioned in Budapest's bustling Váci Office Corridor and comprises a total leasable area of around 27,000 sq m with 299 parking spaces. The property is 74% leased to various prominent tenants; Colonnade Hungary, Cofidis Hungary, MBH Gondoskodás Fund, DBH Group, Orbico Hungary among them. The building has already received LEED Platinum Core and Shell version 4 certification with the highest points in Hungary so far and aims to get WELL v2 Core & Shell certification and WELL Health & Safety rating. H2Offices also obtained Access4You Gold certification, which assesses the built environment and provides detailed information about how accessible the building is.

"We are delighted that our long-term trusted relationship with Erste RE Fund resulted in successful transaction of H2Offices project. Our partnership based on common values, strong commitment towards ESG got enriched by another fantastic building. This transaction stands as a testimony to the interest in high-quality and sustainable real estate products, indicating a positive shift in demand on the investment market. We as Skanska are proud to be at the forefront of offering such quality and future-proof developments," said Katarzyna Zawodna-Bijoch, President & CEO at Skanska commercial development business unit in CEE.

"We are pleased to share the successful acquisition of H2Offices, an outstanding A+ category office building located in the heart of Budapest. This further enhances the proportion of our portfolio consisting of high-quality office buildings that cater to every tenant requirement. The transaction bolsters our longstanding partnership with Skanska, an entity that shares our dedication to ESG principles. We extend our gratitude to the colleagues at the Real Estate Fund who played an indispensable role in facilitating this transaction. H2Offices not only enriches our portfolio, but also embodies our commitment to sustainable real estate investments. This acquisition represents a significant stride towards attaining our environmental, social, and governance objectives, and supports our future endeavors in this regard," explained Balázs Pázmány FRICS, Chairman of the Board at ERSTE Alapkezelő Zrt.